---
Berkeley Community Theatre
Sunday, November 18, 2018 at 2:30 p.m.
Celebrating the Memory of Bill Schlotter
Walt Strony at the Mighty Wurlitzer
playing Richard Rodgers' Victory at Sea Suite.
William O. Schlotter Obituary
Stage Door Concert for NorCal Members $15
Join NorCal at the door for $20 and receive
free admission for yourself and a guest.
Driving Directions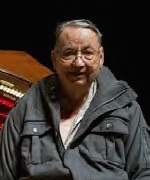 Bill Schlotter at the Center Theatre console
Amtrak Friends and Family Offer
Buy one full-fare ticket, and up to five friends can travel with you for 50% off.
Avoid the traffic on I-80 by taking Amtrak from Sacramento to the East Bay.


Train 737 departs at 12:10 p.m. Take LYFT from Berkeley station to BCT.


Capitol Corridor Schedule
Buy Tickets Online


---
Sierra Chapter Facebook
Facebook helps you connect and share with the people in your life.
Sierra Chapter Facebook
---
Sierra Chapter Twitter
Don't miss any updates from Sierra Chapter. Sign up today!
Sierra Chapter Twitter
---
Sierra Chapter YouTube Channel
Visit our YouTube Channel to watch 25 theatre organ videos.
Sierra Chapter YouTube Channel
---
Support Sierra Chapter
Please make a tax deductible contribution to Sierra Chapter.
Theatre pipe organ preservation is expensive! Your support is greatly appreciated.

Donation Form
Sierra Chapter, American Theatre Organ Society was organized as a California nonprofit public benefit corporation on October 17, 1968 and is recognized as tax-exempt under Section 501(c)(3) of the Internal Revenue Code and Section 23701d of the California Revenue and Taxation Code.