Brett Valiant Biography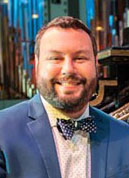 Brett Valiant, a native of Wichita, Kansas, realized his love of music at an early age. Brett began piano studies at age 4, continuing through organ instruction at Wichita State University.

Brett's professional career began at age 11, and by the age of 15 he was playing concerts around the United States. Since then Brett has appeared in Europe, Canada, Australia, and New Zealand. Additionally, in the U.S. Brett has performed for the American Film Institute, as well as conventions of the American Theatre Organ Society (ATOS) and the American Guild of Organists (AGO).

After years of filling in for Charlie and Lew at Organ Stop, Brett happily joined the Organ Stop musical staff in 2015.

In addition to playing the organ, Brett's friends know him for his love of ice and roller skating.