Music Man Breaks the Silence
By Jerry Berrios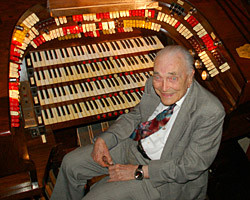 August 9, 2008 — At 95, Bob Mitchell shows no signs of slowing down.

Mitchell, one of the last original silent movie organists, has a pocket calendar filled with gigs at churches, theaters and events.

"I enjoy playing and they keep on calling me," Mitchell says. "It's wonderful, not only that I can do it, but that I am in demand. I'm not going to tell them 'No, I'm 95. I'm not going to play.'"

The Hollywood resident's musical career started at age 12 when he began accompanying silent film releases in Pasadena. Over the years his career highlights included founding a renowned boys choir that performed in more than 100 films, and serving as the first organist for the Dodgers at Dodger Stadium.

After a break from accompanying silent films for more than half a century, he took them up again at local screenings in the early 1990s.

This month, he is the featured accompanist on Wednesday nights at the Silent Movie Theatre in Los Angeles.

"It's a real honor," said Amalia Levari, the theater's director of operations. "He approaches his performance with absolute enthusiasm after accompanying these films for over 80 years."

Last Wednesday, Mitchell showed that gusto while he improvised through the two-hour, 23-minute feature from 1925, "Ben Hur: A Tale of the Christ." He kept his bright blue eyes transfixed on the screen and worked those organ keys and pedals to create a dramatic mood that matched the epic story of revenge.

"We book him for as many shows as he will do," Levari said. "It is fun for us and the audience."

Silent film aficionado Zach Zoschke of Los Feliz has been going to the theater for seven years.

"It's an unexpected element of authenticity," Zoschke said of Mitchell's accompaniment. "It is as if Mozart were still alive and playing piano."

Mitchell, a Los Angeles native, started playing piano at age 4 under the watchful eye of a strict mother who made him practice an hour a day.

He started playing the organ at 10 years old, taking lessons from a stern organist at The Episcopal Church of the Ascension in Sierra Madre.

"She had her hair in a top knot and a pencil behind her ear," Mitchell said. "I looked down and she said, 'Don't look at your feet.' She scared me so. It was a good thing because when I am playing a picture, I can't look at my feet."

Playing for silent movies started after a Christmas season performance at the Strand Theatre in Pasadena in 1924, when Mitchell was only 12. He played for the premieres of films including "The Ten Commandments," Rudolph Valentino's "The Eagle" and "Cobra," and Douglas Fairbanks in "The Thief of Bagdad" and "Don Q, Son of Zorro."

Pasadena was so high-brow, Mitchell said, that the theater didn't play Charlie Chaplin or Buster Keaton films.

After talkies forced him out of a job, he played music at churches and in 1934 established a boy's choir that went on to perform in more than 100 movies including "Going My Way" with Bing Crosby.

After 95 birthdays, what hasn't Mitchell done?

An autobiography would fill chapter after chapter with stories from his stint with the U.S. Navy during World War II to Hollywood anecdotes like the time the Mitchell Choirboys ripped a movie screen and didn't get hired to work on the "Bells of St. Mary's."

But, it was Mitchell's time as the organist for the Los Angeles Dodgers that he says brought him the most fame.

"It was wonderful," Mitchell said. "It was good pay. I got home early. Of course, if they had extra innings that wasn't so good."

He concedes that he doesn't know anything about baseball and had to be told which team won the game. But, again, it was his trademark enthusiasm and talent that allowed him to succeed.

Mitchell was the Dodgers' first organist at Dodger Stadium when the organization moved there in 1962. Previously, the team played for three years at the Los Angeles Memorial Coliseum after its move from Brooklyn.

"He was the soundtrack for an amazing new ballpark," said Mark Langill, the Dodgers team historian. "Being a musician, it doesn't matter if you are at a ballpark or a theater, you are able to reach your audience and perform."

Mitchell also played organ for the Angels when they were at Chavez Ravine from 1962 to 1965.

Mitchell visited Dodger Stadium last month to celebrate the 50th anniversary of the team's move to Los Angeles and played "Take Me Out to the Ballgame" during the seventh-inning stretch.

Before Dodger games begin, a kid at a microphone usually yells "It's time for Dodger baseball!" Last month, Mitchell did the yelling and the crowd went wild, Langill said.

Friends E. J. and Kim Stephens, of Canyon Country, and Dee Perkins, of Northridge, accompanied Mitchell to the ballpark that day.

Perkins, a part-time medical office assistant and full-time Bob Mitchell fan, has scrapbooks filled with Mitchell memorabilia.

"I feel like Bob really is a national treasure," she said.

E. J. Stephens agrees.

He organizes the "Flickers at the Junction" silent movie events, another of Mitchell's gigs, for the Santa Clarita Valley Historical Society.

Stephens admires many qualities about Mitchell, but it is his zest for life that stands out.

"He is 95 years old, and he is not pissed off about it," Stephens said. "He is still so happy about being alive."

In 2012, the Dodgers will celebrate their 50th anniversary at Dodger Stadium, and Stephens said Mitchell has been invited to join in the hoopla. It would also be the year Mitchell turns 100. Stephens has already penciled in the appointment.

"I just know he is going to make it," he said. "I just know he will."
---
Webmaster's note: Bob Mitchell passed away on July 4, 2009. He was 96.