Palo Alto's Pipe Organs Offer Musical Riches
By Rebecca Wallace
Listen to Bill Taylor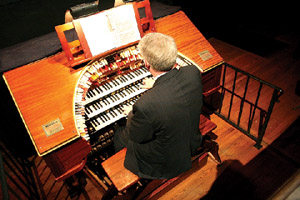 Mozart called it the king of instruments, but the pipe organ doesn't parade its pageantry. In fact, if you never go to church or old movies, you might miss Palo Alto's majestic array of instruments.

Behind church doors — and at the Stanford Theatre — is a wealth of keyboards and gleaming pipes. These organs play for brides and choirs, of course, but they're equally at home with Bach and Gershwin. They can rumble like a bassoon, warble like a human voice and trumpet with panache.

For a suburban area, Palo Alto has an impressive set of pipes. This may be due to the Peninsula's affluence, or to the local appreciation for musical quality. In any event, there's a range of musical diversity, which is well represented by a particular trio of organs: the Casavant Freres organ at St. Mark's Episcopal Church; the brand-new Letourneau at First Congregational Church of Palo Alto; and the Wurlitzer at the Stanford Theatre.

At St. Mark's in Midtown, Palo Alto organist James Welch, clean-cut and polite, is more than happy to demonstrate the Casavant. There's a hum as he turns on the electric blowers, which furnish the wind pressure for the organ. He prepares to play what he calls the most famous organ piece, Bach's Toccata and Fugue in D Minor.

"Curiously, there's no proof that he wrote it," Welch notes. But no matter. He dives right in.

The St. Mark's organ is nearing its 50th birthday, but playing it seems remarkably complex, even high-tech. The console has four manual keyboards and a pedal board: Even while Welch's hands cross and dance across the keys, his feet can play chords below. With expression pedals, he can also use his feet to make the music louder or softer.

All around the keyboards are stops resembling knobs or tabs. In a pipe organ, the sound comes from air going through the pipes. Pulling out or flipping a stop changes which group of pipes you access when you play the keyboard. So when you use the stop marked "Festival Trumpet," for example, your notes will sound bright and brassy.

Welch plays a strings sound and an oboe, then demonstrates different styles of music. "A little Gershwin?" he asks, as the organ sings out "tomato, tomahto."

Can he pull out all the stops? But of course. Welch produces a blasting "Wedding March" that could knock you off your feet, then smiles sheepishly.

"We have a sound restriction," he says, gesturing to the quiet neighborhood outside. "We can't play loudly after 10 p.m."

Some nights, it must be hard for him to stop playing. Welch has been at the keyboard since he was 8, first the piano and then the organ. Now he holds a Doctor of Musical Art degree from Stanford University and also teaches at Santa Clara University.

He grows reverent as he recalls playing organs in Germany that Bach himself had played. "That was my main pilgrimage in life."

Still, the St. Mark's organ isn't too shabby. The original 1957 instrument had three keyboards and 1,555 pipes, and now boasts four keyboards and 4,568 pipes. That makes the organ one of the largest in the area, Welch says.

But even if you're a regular churchgoer or concert fan, you still see only the console and a few pipes. For the full story, you've got to climb a ladder behind the sanctuary walls, to a world of silvery pipes ranging in height from a fraction of an inch to 16 feet. You follow narrow catwalks, keeping your elbows in so you don't touch the pipes and make them go out of tune.

Seasonal temperatures affect the metal pipes, too. In fact, the organ sounds different every day. "With this beast, when you turn it on you never know what you're going to get," Welch says affectionately.

Some of the pipes have caps on top; some are open; some are tapered; some are fluted. The tiniest look like dolls' piccolos. "All these things make a difference in harmonics," Welch says.

Building this behemoth was a massive undertaking. In the '50s, the organ was fueled by a larger congregation — and a lot of money. Welch estimates that in today's dollars each stop and its mechanism would cost $20,000; the whole organ could cost $1 million to $2 million.

"It's a relic that could probably not be repeated today," Welch says.

And yet, not far away, the First Congregational church has just completed its own colossal organ. The console smells like polished wood ("that new-organ smell," organist Joe Guthrie jokes) and features black keys of maple and white keys of bone. It has 49 stops and is flanked by two sections of soaring pipes.

Most of the more than 3,000 pipes are hidden, but there's still plenty to see, including trumpet-shaped pipes that jut out regally, as though announcing the arrival of a king.

Guthrie is also assistant music director and pianist for the Beach Blanket Babylon musical revue in San Francisco, and he's got a charming theatrical way about him. All the excitement of playing this dream of an instrument glows in his face.

"It's fantastic!" he exclaims. "I practice every day."

Guthrie, a Palo Alto resident, was an organ major at the University of Missouri at Kansas City's conservatory of music. Before that, he was a small-town boy yearning to play the organ. "When I was in fifth, sixth grade, I'd play the organ in church for extra money. My friends had paper routes; I played at funerals."

Guthrie joined First Congregational in 1995, and the congregation decided about four years ago to build a new organ. Parts of the previous organ dated back 100 years.

The church also decided to do major acoustical work to the sanctuary. The whole project cost about $3 million and required a major fundraising campaign, Guthrie says.

It took 18 months for the Quebec-based company Orgues Letourneau to build the organ in the factory, and Guthrie flew up to test it out. Then the Letourneau team took the organ apart and shipped it to Palo Alto.

"When it arrived, 50-some church volunteers helped unload it. We had to take all the church pews out to get it in," Guthrie said. Then, the team from Letourneau stayed for two months putting the instrument together and voicing it, working 12- to 14-hour days.

"One day I was leading a choir rehearsal when one of the technicians came in, handed me the key, and said, 'We're done.' I couldn't believe it was finally finished," Guthrie said. "The builders got emotional, too."

The new organ was unveiled on Sunday, May 13, 2007.

Although the instrument adheres to air-powered tradition, it does have some contemporary touches. Guthrie can record himself playing, and the organ is built on steel frames for seismic stability.

"If there's ever an earthquake, where you want to be is inside this organ," Guthrie said.

But enough about the mechanics. How does it sound?

Guthrie plays a Bach fugue that swiftly builds in intensity and complexity, and passers-by gather in the back of the church to listen. Guthrie closes his eyes. The sound is almost impossibly rich and resonant.

One of the organ stops is marked "Tutti," Italian for "all." It brings to mind a massive choir singing at once, and that gives you a taste of this organ's power. If you stand in the middle of the sanctuary during a "Tutti" moment, you can feel the music pounding throughout your entire body, vibrating in your feet.

Classical organs such as St. Mark's and First Congregational's may have the blessing of a church, but theater organs also enjoy plenty of spirit. Downtown, the Stanford Theatre has an organ that James Welch praises as one of the best "Mighty Wurlitzers" in the country.

In the grand theater, which opened in 1925 and was later restored by the David and Lucile Packard Foundation, the three-keyboard console sits at the base of the movie screen. Organists Bill Taylor, David Hegarty and Jerry Nagano (depending on the day) play before and after films, and the organ is hydraulically moved down when the movie starts. Other organists take over to accompany silent films.

Installed in 1989, the organ has since been upgraded several times, Taylor says, sitting at the bench. Its pipes come from a Lowes movie theater in Syracuse, while the console once lived at Grauman's Chinese Theatre in Hollywood.

During the last century, the Rudolph Wurlitzer Company, an American firm, built pipe organs designed to create a whole audio world for silent films. So besides being able to sound like a '30s orchestra, the Stanford organ can also be a clip-clopping horse or a xylophone. The secret lies behind the golden screens on either side of the movie screen.

"All the percussion instruments are real," Taylor says. "There's a marimba behind the lower part of the grille. For Spanish music you have tambourines and a castanet."

True to form in a pipe organ powered by wind, the instruments are pneumatically operated. They're rigged up through the keyboard; a bellows attached to a hammer sounds the instrument.

Behind the screens, organ curator Edward Stout leads the way up a ladder to show off the contraptions. Upstairs is a hammer striking a gong, and a device that sounds like someone knocking on a door. There's also, of course, a huge host of metal pipes. Stout jauntily pulls out a thin one, announces, "Strings," and blows through it, sounding like a violin.

Stout is the retired curator of organs at Grace Cathedral in San Francisco, but he doesn't seem retired. He's busy rebuilding and installing other organs. And Taylor is an engineer by day, unsurprising for someone who was drawn to organs for their mechanics.

For now, though, Taylor's only looking ahead to the next film, which will start shortly.

The doors open and people start filing into the theater, looking eager to take their red plush seats. They're here for Katharine Hepburn, but first they're going to hear the pipe organ — perhaps for the first time.