Rosa Rio Obituary
Listen to Rosa Rio Interview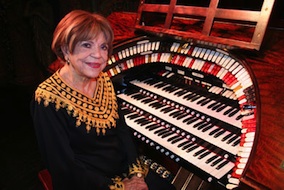 Rosa Rio, the last of the original silent-movie organists, gave her first professional performance in 1912, when she was 10. William Howard Taft was president. At the age of 107, she was still at the keyboard in Tampa, providing accompaniment for a screening of Buster Keaton's silent film "One Week."

The movie was made in 1920, when Ms. Rio was already a seasoned musician of 18. Ms. Rio's 97-year career in show business came to an end when she died at her home in Sun City Center, Florida on May 13, 2010.

She was less than three weeks shy of her 108th birthday. She had broken her hip in March and developed an infection and influenza, but in the last week, she was still practicing at home on her nine-foot concert grand piano.

After moving to Florida in 1993, Ms. Rio provided live musical accompaniment to dozens of silent films at the historic Tampa Theatre, reprising what she had done more than 80 years earlier, when the movies were new.

In the 1920s, after studying in a program on the subtle art of film accompaniment at the Eastman School of Music in Rochester, New York, she took a job for $40 a week at a theater in Syracuse, New York." I worked every day from 11:30 a.m. to 11 p.m.," she said in 2006, "and I thought I was the luckiest girl in the world."

She performed in ornate movie palaces with giant Wurlitzer organs that could produce a magnificent sound, like trumpets and thunder, all at once. The organs, which dramatically rose out of the floor of the stage, had foot pedals, three keyboards and hundreds of stops, buttons and tabs to produce a startling array of sounds. These dramatic musical effects allowed Ms. Rio create an aural illustration of the film.

In 1927, she was working at the Saenger Theatre in her native New Orleans when Al Jolson appeared in the first movie with sound, "The Jazz Singer." "One day Al Jolson comes in and sings 'Mammy,' and I'm out," she recalled in 2006.

Ms. Rio continued working at the Fox Theater in Brooklyn, New York, and at the Loews Burnside Theater in the Bronx before becoming the staff organist for NBC in 1938.

She was the only woman working in an orchestra with 100 men. At times, the hazing went overboard, and one time an announcer unbuttoned Ms. Rio's blouse while she was playing. Undaunted, she got even by pulling down the broadcaster's trousers as he read a commercial on live radio.

At her busiest, Ms. Rio performed on 13 separate programs, dashing from one studio to another to perform the themes and incidental music for programs that included "The Shadow" with Orson Welles, "The Bob and Ray Show," "The Goldbergs" and no fewer than 24 soap operas.

"Rosa was an absolute dynamo," Skitch Henderson, the former NBC music director, said in 1999. "She was the only organist I ever knew who could really improvise and had a fantastic knowledge of the instrument."

Between radio jobs, Ms. Rio was the accompanist for singer-actress Mary Martin, had her own radio show and was friends with many musicians and composers, including Cole Porter.

But by 1960, radio and television studios no longer needed orchestras and organists to provide incidental music, and she moved to Shelton, Connecticut, where she taught piano, organ and voice.

In the 1980s, when silent movies were being formatted for videocassette, Ms. Rio was called on to compose and perform soundtracks for almost 400 films, including "The Phantom of the Opera," "Birth of a Nation," "Hunchback of Notre Dame" and several classic comedies of Buster Keaton and Charlie Chaplin.

In 1985, she reflected on her changing fortunes, after her career had been turned upside down by the introduction of talkies more than 50 years before. "I thought that was the end of my life," she said. "But things have come full circle, and it's like old times again."

Ms. Rio began playing piano by ear at age 4, and by her late teens, she was studying classical piano at Oberlin College in Ohio. One day, she went to Cleveland and, as she recounted in a 2006 NPR interview, "I heard a sound I had never heard before. I saw the pinpoint of a light grow larger and a console came from out of the pit.

"I stayed for the second show just to hear it again. And when I walked out on the street, I looked up at the sky as if to say a prayer. I said thanks. I now know what I want to be in my life. I laugh and say, 'As long as I can play, lift me on the bench, I'll play.' "

Ms. Rio was habitually vague about her personal history and for years deflected questions about her age with a well-practiced quip: "Honey, age is just a number, and mine is unlisted."

But at a birthday concert in 2007, she revealed her true age: She was born June 2, 1902, and grew up in New Orleans. Her husband of 63 years, Bill Yeoman, 90, said that her name at birth was Elizabeth Raub, but she took the stage name of Rosa Rio because it fit easily on a theater marquee.