Sanfilippo Wurlitzer
By Alan Farnham
Listen to Lyn Larsen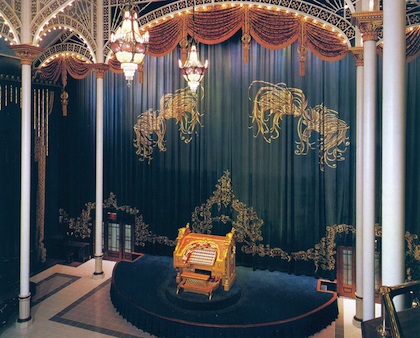 Robert Ridgeway, curator for Jasper Sanfilippo's collection of musical devices, recalls the reaction of a first-time visitor to the Sanfilippo estate in Barrington Hills, Ill. The guest, a wealthy Japanese businessman, happened to love theater organs and had heard that Sanfilippo owned a doozy. The man admired the estate's long driveway. He admired its vestibule. But when the doors to the music room were at last thrown open, says Ridgeway, the man exclaimed, "Oh! Emperor not live like this!"

It's safe to say no emperor ever has. That's because no one else, royal or commoner, has ever built a 27,000-square-foot living room in which to house the biggest Wurlitzer pipe organ in captivity. This is an instrument so vast that a 50hp, 440-volt blower is needed to supply its breath (10,000 cubic feet per minute), yet so versatile it can play "Chattanooga Choo-Choo" one minute (complete with train whistle), and a Debussy delicacy the next.

What's more, it plays them without needing an organist — a great convenience for Jasper and his wife, Marian, neither of whom plays the instrument. Like some electronic pianos of recent vintage, the organ has a feature permitting the capture of keystrokes. This memory recalls every note of every artist who's played at the Sanfilippos' home, as well as the tonal settings he chose and even the lighting in the room. All these can be reproduced at the touch of a button. Other buttons summon thunder, surf, tom-toms and a glockenspiel. A 32-note set of bells (the largest weighing 426 pounds) can be played either from the keyboard or by pressing the home's doorbell (an innovation that probably never occurred even to Martha Stewart).

Scoff if you like, but experts agree that Sanfilippo has created something extraordinary. Says organist John Giacchi (by day, a litigation attorney for an insurer), "Jasper and Marian don't do anything by halves. Their organ incorporates the best of everything." While Radio City's Wurlitzer (the world's second largest) has 4,500 pipes, Jasper's has 8,000. Says Tom Hazleton, perhaps the best theater organist in the U.S.: "If this doesn't blow your socks off, nothing will."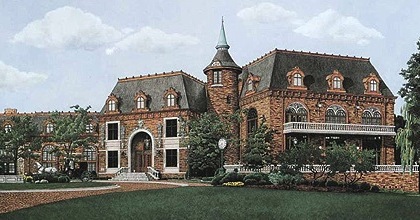 There is no way to prepare yourself for a visit to the Sanfilippos' 44,000-square-foot home, situated on 57 acres inland from Winnetka, about 45 miles northwest of Chicago. Aerial photographs give a sense of the music room's great size: 120 feet long, 64 feet wide, 42 feet tall. This is "home theater" taken to extremes. But no photograph can give you a hint of the organ's lung power, which, not to mince words, is frightening.

You first hear a hiss of air and a working of gears. Then, suddenly, a hurricane of sound: The console, playing "Chicago," rises up out of the floor, seemingly of its own volition, revolving clockwise, ivory keys flashing like teeth — huge, alive. It launches into "Moon River," emitting bird tweets as it gains momentum.

The room now seems, if anything, too small. Castanets, gong, piano, a police siren — all vie for aural attention. Bach's Toccata & Fugue in D Minor gives way seamlessly to a Victory at Sea that has palpable 25-foot swells. Vibrations from the organ's largest pipes shake you as a terrier shakes a rat. Then, just as majestically as it has arisen, it subsides into its pit, leaving behind a glissando of chimes.

Tom Hazleton is right. Compared with Jasper's organ, the decoding of the human genome seems unimpressive.

Sanfilippo spent perhaps $2 million on this instrument, which, after a series of enlargements, assumed its final size in 1993. How did such a marvel come to be?

John Sanfilippo, Jasper's father, arrived in Chicago from Sicily in the 1920s, speaking very little English. He got work as a driver for the Double K Nut Co., which later offered to set him up in business shelling nuts. By the time Jasper was born, in 1931, John B. Sanfilippo & Son was competing with more than 50 other Italian family businesses in the Chicago area, all shelling. Jasper, mechanically inclined, got a job at age 16 with J.C. Deagan Co., a maker of xylophones, chimes and tuned percussion instruments. He graduated from the University of Illinois with a degree in mechanical engineering. After his dad died in 1963, Jasper took over the family business. Sales at the time amounted to only $300,000 a year.

Shelling pecans and peanuts was labor-intensive. A person working by hand could shell maybe 12 pounds an hour, tops. Machines were faster but too often crushed what they were meant to shell. Jasper upgraded the technology, patenting his improvements. Today the Sanfilippo Co. shells 20 tons an hour and is the second-largest nut processor, after Planters. Sales in 2002 were $343 million.

Jasper's love affair with musical machines began in the middle 1970s when, touring California with his family, he visited Knott's Berry Farm and Disneyland. At the time, both attractions had nickelodeons and band organs on display. He was, he says, immediately captivated by their mechanical ingenuity, no less than by the music that they played. "I thought I would like to own a few," he says. Today his collection of music boxes, automatic pianos and orchestrions — self-contained orchestras in miniature — ranks among the largest in the world.

As for theater organs, he knew he wanted a Wurlitzer the first time he heard one play. "Nothing has ever given me so much pleasure." Doesn't it frustrate him not to be able to play himself? "You don't have to be a chef to appreciate a good meal." He and Marian invite guest organists to stay at (and record in) their home. "We host numerous charity events each year," says Jasper, "and it is gratifying to see how people respond when the organ is being played by a talented artist."

While musical machines make up the bulk of his collection, they're not the whole macaroon. In a barn he keeps locomotives, paving machines, circus posters, chandeliers and calliopes. In a glass case, displayed as jewelry might be, are solid brass oilers made by the Lunkenheimer Valve Co. of Cincinnati. There's a huge 1890s carousel that, when revolving, looks like a solar system of wood. Near the center of the barn sits, forlornly, the office desk of Farny R. Wurlitzer (d. 1972), the man who put theater organs on the map.

What will happen to all this after Jasper's own last chord is played? "Marian and I are fortunate," he says. "We have five wonderful children who all appreciate the diversity and uniqueness of the collection. Our family has established a foundation, and I would guess that this will all live on, in one form or another." Marian, too, collects, but the future of her collection is more easily assured. "Hatpins," she says. "I can move them all in one briefcase."