George Wright's Showtime
By Allen White
Listen to George Wright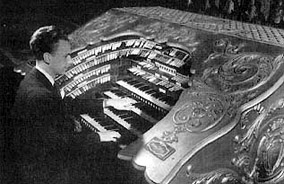 Fox Plaza stands at Market and Hayes, but it wasn't always there. On March 5, 1960, Market Street was a boulevard with character, spirit and an energy hard to imagine today. Part of that character was the Fox Theatre. Filling most of the block bounded by Market, Hayes and Polk Streets, the magnificent structure personified what was then described as San Francisco's "Cathedral of the Motion Picture."

The Fox was the shining star amongst entertainment palaces extending from the Ferry Building, past Bimbo's the forerunner of the Columbus Avenue nightclub, the Garden Court of the Palace Hotel and extending through theaters where stage shows augmented films released in a golden era of entertainment.

Nineteen-sixty was a year that signaled change in San Francisco. We had discovered television to watch and "hi-fi" and stereophonic sound brought a spectrum of audio wonderment never before thought possible. Turn a knob and the bass shook the house; the high-pitched sounds, we were told, could shatter glass.

Those hi-fi records of the 50's introduced me to the Mighty Wurlitzer Theatre Pipe Organ. It was a time when homes were transformed into concert halls, cathedrals or vast theatres through never before heard audio dynamics of high fidelity recordings and powerful sound systems. They would give the theatre pipe organ a new lease on life.

By most standards the finest organist was George Wright and the best organ installation was in the San Francisco Fox. One of the first and finest of those recordings was "George Wright's Showtime." Recorded at San Francisco's Fox Theatre, it captured a sound which I found incredible.

At midnight on Saturday night, March 5, 1960 the sounds of "George Wright's Showtime" came alive in San Francisco's Fox Theatre. It was a moment many would call historic. For me, it was an opportunity to create magic. Just before that magical evening, George Wright autographed a record jacket to me from that album. He wrote: "The Show Must Go On...Why?" I was about to learn the answer.

If the electronic reproductions were grand, how more awesome would they be when experienced for real. I wished to hear the sounds of the Fox Theatre's Mighty Wurlitzer and with George Wright at the console. For every problem, there is a solution, so they say! On December 22, 1959, my 21st birthday to be exact, I picked up the telephone and called George Wright. His first question: how did I get his phone number? My first question: Would he play a concert for a few friends at the Fox?

To my surprise he said if I could find $500 bucks he would do it. A subsequent telephone call and the date, March 5, was set. Another $500 for the Fox Theatre rental and we all had deal. As I said yes to all this I realized I didn't have $100, let alone a thousand.

In those days there were these wonderful groups called home organ clubs. I began hustling up $100 at a time from each club. A local radio station entered the project and it was a deal. Tickets went on sale at $2.00 each. The question: would anyone buy a ticket to hear a guy play the organ at midnight?

A few minutes after 10 p.m., the last showing for the night of "Sink The Bismark" would end. A few hundred movie patrons casually made their way out the giant theatre doors. Leaving the theater they couldn't believe their eyes. Neither could manager, Bob Apple, his assistant, Ken King, or his boss, John Klee. I, too, was more than a little bit surprised.

Yes, they would buy a ticket. Would they ever! Nearly 4,700 people stood two and three deep wrapping around the full city block that housed the Fox. Their purpose was to enter this magnificent "Cathedral of the Motion Picture," the San Francisco Fox, and be dazzled by the artistry of George Wright.

Just after midnight, the house lights dimmed and then began one of my life's most defining moments. From the organ chambers came sounds of pipes recreating violins tuning up for a concert. Then the building literally shook as the sounds of 32 foot pipes were heard.

A spotlight from six floors above and a full city block away, hit the orchestra pit and the sound of Berlin's "There's No Business Like Show Business" punctuated the night air. Slowly, and with an awesome majesty, emerged George Wright at the magnificent San Francisco Fox Mighty Wurlitzer Theatre Pipe Organ.

"George Wright's Showtime" had come to life.