Stanford Theatre Organists
By Heather Knight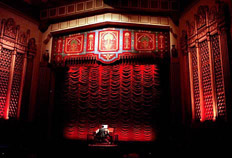 April 14, 1999 — It's Wednesday evening and Jerry Nagano prepares for his trip back in time.

The 36-year-old finishes his work managing Stanford's computer network, changes from his polo shirt and jeans into a jacket and tie, and hops aboard a shuttle bus for the trip down Palo Alto's University Avenue.

He passes sushi restaurants and coffeehouses filled with college students and young professionals before reaching his destination: the flashing red and white lights encircling the Stanford Theatre marquee. Tonight's 7:30 show features Lana Turner in the 1950 film "A Life of Her Own," and already, familiar tunes from Hollywood's golden era run through Nagano's head.

He strolls through the theater's dimly lit grand foyer, under the glamorous Greek and Assyrian ornamentation on the walls and ceilings, and through the theater, with its six chandeliers, sweeping balcony and 1,200 plush seats.

But Nagano doesn't stop there. He hurries through the backstage area into the orchestra pit and takes his seat on the bench of the Wurlitzer organ.

When the credits of the 5:50 showing of 1942's "Her Cardboard Lover" begin to roll and the massive, red velour main drape drops, an elevator in the pit rises seven feet, and Nagano and the elegant instrument emerge under a bright spotlight to the hushed gasp of the audience.

For the next 15 minutes, Nagano delights the crowd with a medley of old tunes, including "Almost Like Being in Love," "I Remember You" and "Old Devil Moon." He bounces in his seat and his fingers dance across the keyboard, but soon the elevator lowers, the rose crushed-velvet title curtain swings open and the black-and-white images of the next movie flash across the screen. Nagano will spend the next 1 1/2 hours reading a book in the basement, then take his seat at the organ before the 9:30 showing.

Nagano, who lives in San Jose, and two others, Bill Taylor, 47, of San Jose, and David Hegarty, 54, of San Francisco, share the organ-playing duties at the Stanford Theatre. They ensure that audiences are delighted nightly not only by the classic films, but also by the booming music of an instrument rarely heard anymore outside churches, cathedrals and the occasional pizza parlor.

Like over-priced popcorn and soda today, organs were staples of cinemas in 1925, when the Stanford Theatre first opened its doors. So when David Packard, son of the Hewlett-Packard co-founder and a lover of classic movies, restored the theater to its original splendor 10 years ago, the mighty Wurlitzer made its appearance, as well.

The theater's original organ, a Smith, was given to a San Francisco radio station in 1958 and later disassembled and sold as parts. Following Packard's decision to restore the theater in the late 1980s, six organ experts spent two years acquiring organ pieces and restoring them.

The 1926 console, the visible part of the instrument where the organist sits, came from Mann's Chinese Theatre in Hollywood. The organ's pipes, which line both walls of the theater and date back to 1928, came from Loew's Theatre in Syracuse, N.Y.

The Wurlitzer's restoration provides entertainment for moviegoers and creates another venue for local organists. According to Taylor, about a dozen organists in the Bay Area play well enough to perform at public venues. The Stanford Theatre pays its organists, though the men declined to say how much.

Hegarty, who makes his living as a professional organist, began playing the instrument when he was 14. His father avidly played the trombone, and Hegarty already had mastered the accordion. His parents purchased a home organ for $1,200, and by learning pieces by ear, he was soon able to play at churches and high school events.

Back then, playing the organ was considered cool, and Hegarty was popular because of it, he said. He went on to earn bachelor's and master's degrees in organ, and now he plays at the Stanford as well as the Castro Theatre in San Francisco. He also composes pieces for a large church-music publishing company.

"I like the fact that one person can do the equivalent of a full orchestra in essence, that you can get the full range of music without needing another person to be involved," Hegarty said. "Because it's such a majestic instrument, it can give you the feeling of great power. But it is also capable of gentle, romantic music that I particularly enjoy playing."

Before taking his computer job at Stanford, Nagano also made his living playing the organ every night at a San Lorenzo pizza parlor. He first heard the instrument when he was 10 years old at a basketball game in Los Angeles, and from them on, he was "pretty much hooked," he said. Though he still plays at the pizza parlor occasionally, Nagano prefers performing at the Stanford Theatre.

"I made a living playing an organ gig and that's pretty rare, but this is much nicer," he said. "At the pizza parlor, there are always people asking you for requests, anything from an old Scott Joplin rag to 'Stairway to Heaven' by Led Zeppelin. It's much nicer when it's your hobby and you can come in and play a very nice instrument just because you enjoy doing it."

Taylor, a research and development project manager at Hewlett Packard, has performed at the theater since it reopened. Unlike Hegarty and Nagano, Taylor has always played the organ as a hobby, not a profession. Though his parents purchased lessons from a door-to-door salesman and Taylor continued with them for ten years, he preferred studying the instrument's history and hearing others perform, rather than playing.

One of Taylor's favorite nights performing at the Stanford Theatre occurred during a Fred Astaire film festival. Taylor opted to play a tango, "Orchids in the Moonlight," from an Astaire film, "Flying Down to Rio." A group of Stanford ballroom dancers were in the audience and used the music to show off their tango skills. A reporter from an East Bay newspaper also was there, and the next morning, his review lauded the theater, saying it was so much fun, "people were dancing in the aisles."

The three organists select their programs in slightly different ways.

Nagano plays songs from the time the movie was made, give or take five years.

Hegarty tries to learn each film's score or specific songs. "As Time Goes By" during a showing of "Casablanca" would be a natural choice, he said. His favorite composer is George Gershwin, and his favorite film scores come from Alfred Hitchcock movies.

Taylor typically rents upcoming films to learn songs they feature. For films with lots of songs, such as Astaire movies, putting together a medley of tunes is easy. But for films that don't spotlight particular songs, Taylor will play music he thinks fits well with movie's genre. During a Humphrey Bogart festival, he will play dark music from the 1940s.

For Taylor, the best nights are when he's playing for a capacity crowd. The theater tends to sell out for popular films such as "Gone with the Wind," "Casablanca" and the annual Christmas Eve showing of "It's a Wonderful Life."

It's more fun then because if there's a lot of racket, people can't hear if you make little mistakes," said Taylor, who almost always uses sheet music in case he forgets a passage. "I do worry about making mistakes, but I'm not obsessed with it. I hardly ever make mistakes that the average person would notice. I think, I hope."