Restoring Organs for the Next Generation
By David Louie
June 28, 2002 — ABC7 introduces you to a man who has a real passion for what he does, and because of that, a new generation of Bay Area residents can relive the glory of theaters with live pipe organs.

Edward Millington Stout III likes to say he's not living in the right century. He admits to being almost 70, but he lives to bring back the glory of the 30's.

Stout's passion is restoring theater organs.



This is the mighty Wurlitzer organ at the restored Stanford Theater. Jerry Nagano's at the keyboard.

Stout says he fell in love with organs when he was six-years-old, excited by the way they filled enormous auditoriums with sound. On weekends, he would sneak into theaters around Detroit and poke around.

A theater pipe organ has some 200,000 parts, and Stout knows not only what they do, but also how they should sound and move.

Edward Millington Stout III: "That's like the diaphragm in a person's chest and we can look at that and almost tell what that's going to sound like by the way it's moving."

Stout and his associate, Dick Taylor, are in the process of restoring two pipe organs. Not an easy task. Over the years, as classic movie theaters closed, the organs were disassembled. So restoration is like putting Humpty Dumpty back together again.

This means taking parts from Riverside, Dallas and Cincinnati to bring two organs back to life.

The organs will become centerpieces of the Fox California Theater, which is undergoing a massive restoration in downtown San Jose.

One will go in the lobby and the other will be placed on a hydraulic lift that will rise from the pit.

Stout's specialty is the mighty Wurlitzer. Despite its German name, the company called North Tonawanda, New York, home. And its legacy as a theater organ lives on because of Stout.

Organist Jerry Nagano says Stout's expertise is highly respected and definitely rare with each instrument bearing his trademark.

Jerry Nagano, organist: "He knows the music, he knows how it should sound. and he has a passion. This is his life's passion. This is what he loves more than anything."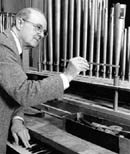 To hear how Stout describes what he does, he sounds more like an oil painter.

Edward Millington Stout III: "You have a palette here of 22 individual colors...22 colors...and you take a dab of this and a dab of that and a little dab of this, and oh my gosh, that's a gorgeous color. This is something different. This is not sound coming out of loudspeakers. This is real. It's breathing, it's alive, and it's thrilling the daylights out of me."

ABC7 salutes Edward Stout of Hayward for his dedication to restoring theater organs so future generations can enjoy the mighty Wurlitzer.