Passion for Pipes
By Tony Cooper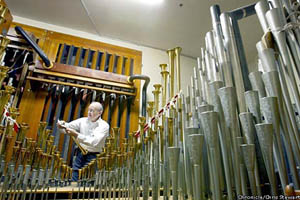 Edward Millington Stout III isn't a plumber, but he knows his way around pipes. The Hayward resident is pretty organ-ized, too.

Stout, 68, has been the driving force behind Quality Pipe Organ Services for more than 40 years. The company name sounds bland and innocuous, but its function is hardly pedestrian. Quality provides museum-caliber restorations of pipe organs for theaters and museums in the Bay Area and all over the country. It specializes in classic Skinner and Wurlitzer organs, which is quite a feat, considering Wurlitzer stopped making theater organs in 1939 and Quality uses only original parts for each brand.

"He sticks to only one thing: 'Do it right or don't do it,'" said Tom Rhoads, organist for the First Church of Christ, Scientist in San Francisco. "On an instrument that needs to be restored, he restores it. He doesn't rebuild it or change it. He wants it to be a historical piece. Every time you see something he's done, you say, 'My God, it's perfect.'"

Stout's work has been evident all over the place for decades. Quality recently restored organs at the Castro and Stanford theaters and is working on projects for the Fox California Theater in San Jose and the California Palace of the Legion of Honor Museum in San Francisco.

Stout has also done projects across the country and has developed a following overseas as well. It's not unusual for him to get a call from someone in, say, England needing advice on how to get an organ back in shape.

"He's the best in the business," said Stanford Theatre manager Cindy Mortensen. "We've loved everything he does. He's a perfectionist; he's great. There aren't enough superlatives to give him."

Walk into Stout's home, a Queen Anne Victorian on the frontage road of one of Hayward's busiest streets, and the first thing that hits you is the man's obsession with the instrument. Photos of famous pipe organists from years gone by are everywhere, and it's a good bet that organ music will be playing in the background on any given day, probably an ancient 78 rpm record.

By the front door, a sign reads: "No swearing, No drinking, No dancing. This is a respectable house." Tongue-in-cheek humor to be sure, but there's no clowning around when it comes to tending to organs.

Much of the work is done in a building behind Stout's home, where Stout and four other employees, including business partner Dick Taylor, meticulously ply their trade seven days a week.

"I probably shouldn't say this, but I'd do it for nothing," said Taylor, 49, a graduate of Aragon High in San Mateo and UC Berkeley. "I do it for the love of it, not the money. I was good in school (Taylor has a degree in electrical engineering) and enjoyed engineering, but I didn't have a passion for it; I have a passion for organs. You should do what your passion tells you."

Stout says that he can barely play — "I doodle," Stout said. That despite being captivated by the instrument from the moment his mother put on a record of organ music when he was a child in Pontiac, Michigan.

"When I was 6, I heard this kind of sound and thought, 'This is the greatest thing in the world.' " said Stout. "It was like an entire orchestra in the control of one person. I was entranced by it, I thought it was pure magic."

Only, Stout didn't pursue playing it. However, he was always an entrepreneurial sort — at age 10, he charged neighborhood kids a nickel a head to watch silent movies in the basement of his home. In his spare time, he would hang around theaters that had organs, learning everything he could about the workings of the instrument from maintenance people.

Stout's family moved to the Bay Area in the early 1950s, but his organ interest didn't wane. He landed apprenticeships at two local companies, where he learned to service and rebuild organs. Starting his own business in 1958, Stout's first contract was with the old Golden Gate Theatre on Market Street in San Francisco.

"The theater was delighted," said Stout. "All the notes played, everything played properly. It hadn't done so for years."

Stout's next restoration was at the Paramount, which didn't put much of a dent in his dicey financial situation.

"When I started the company, I was so poor, I set up sleeping (quarters) backstage in the dressing room of the Paramount and Golden Gate until I had enough (money saved) to get a studio apartment," Stout said. "It took eight months. I was determined to succeed."

Stout did, even though his father didn't like his chances. That changed when a San Francisco newspaper ran a two-page spread on the younger Stout.

"Dad didn't like theater; he didn't like organs," Stout said. "He thought it wouldn't be successful. He was skeptical and worried about it." But after his dad saw the write-up, "My dad was my biggest supporter. Business just kept going on, and my reputation spread around the country."

Stout moved the business to its current location in 1993 after stints in San Francisco and Fremont. He is also renovating the house, which has a set-up enabling Stout to provide clients with slide shows charting the progress of a restoration.

"This is perfect," said Stout. "Walk out the back door, I'm at work. It's convenient for everything."

Stout has the energy of a 10-year-old kid in a playground the day after summer vacation has begun, and it shows in his finished products.

"He has a passion for doing everything exactly right," said Deborah Frieden, project manager for restoration of the Legion of Honor Museum. "He's probably the pre-eminent restorer of museum-quality organs in the country."

Don't expect Stout to slow down any time soon, either. His reputation, already large, seems to be growing.

"Oh, God, (it's been) a very handsome living," Stout said. "I'm ferociously, ferociously busy. I'm 68, and I work harder than I ever did. I've never even had a business card. I'm not in the phone book. I don't advertise in organ journals. They (potential customers) all know who I am. "I'll do this until I drop. My gosh, I couldn't imagine doing anything else."